CD-XRay, Explorer for CD-ROMs/DVD-ROMs
Summary: CD-XRay is a low-level explorer for exploring the innards of CD-DAs, CD-ROMs and DVD-ROMs. Everything you always wanted to know.
Introduction
CD-XRay is an utility to browse the real contents of CD-DAs, CD-ROMs and DVD-ROMs. It can display the sectors in cooked mode (user data only) or in raw mode (headers, user data, error correction codes).
It offers classical navigation functions to display the real contents of data sectors.
It is sector oriented, which is beneficial for such files, where the classical sector size of 512 bytes used by hexadecimal editors doesn't correspond to the way the data is organized.
User Interface
The user interface is the same as classical hexadecimal editors: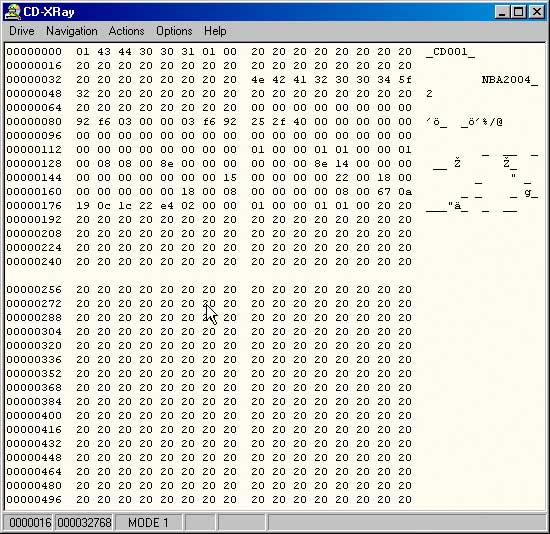 Analytical Display
CD-XRay recognizes following data structures, and displays them accordingly:
ISO Volume Descriptor
Joliet Volume Descriptor
ISO Path Table
Joliet Path Table
ISO Directory
Joliet Directory
Macintosh Volume Descriptor
Macintosh Partition Table
Macintosh Master Directory Block
Macintosh B Tree Header
Macintosh B Tree Nodes
Disk Access Method
Under Windows 2000 and higher, we use a service called lsdiorw.exe, which must be installed from an administrator account. See some comments on this service.
Managing Disk Images
To manage disk images (ISO images, and the like), please see File-XRay, low-level file explorer.
See also:
Download
See our
downloading page
.